From Central Park to Bryant Park and the over 1,700 parks through the five boroughs of New York City, there's a great chance that there will always be an open space for you to enjoy a picnic.  However, this week, starting today and lasting through August 28, there's another place where you can picnic… Grand Central Terminal.
Get away from the heat with Grand Central's 2nd annual "Life's a Picnic in Grand Central" event featuring a free indoor, public picnic space in a reimagined Vanderbilt Hall.  Visitors can relax in air-conditioned comfort with live entertainment, complimentary Wi-Fi and food that they have brought with them or from Grand Central retailers with outposts in the hall.  The event is open from 7:00 a.m. to 7:00 p.m. Monday through Thursday and 7:00 a.m. to 2:00 p.m. on Friday.
Live entertainment will include live food demonstrations by Grand Central chefs and live performances from various partners in New York City.  Tuesday, Thursday and Friday will feature "Broadway Hour" starting at 12:30 p.m. with musical performances that include numbers from Wicked, Finding Neverland, Chicago and others.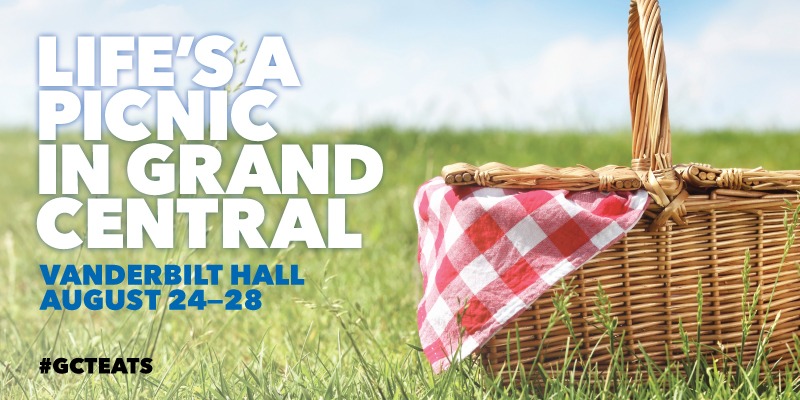 Full Food Demonstration Details
Michael Jordan's The Steak House N.Y.C.
Michael Jordan's The Steak House N.Y.C. will debut their new "Bar Burger" starting Monday, August 24th. Available only at Michael Jordan's popular bar located in the iconic Grand Central Terminal. The "Bar Burger" is introduced by Executive Chef Cenobio Canalizo who initially created the burger during a recent benefit for City Harvest, the world's first food rescue organization. The "Bar Burger" includes melted cheddar cheese and onions braised in New York State Ommegang Nut Brown Ale, served with homemade potato chips for $12.00. After the demonstration, spectators will have a chance to try a bite of this new creation!
Chef Hiro Isikawa will wow the crowds with a demonstration of basic sushi making and allow select spectators to try their hand at rolling!
Dan Belmont is the Education & Events Manager at Murray's Cheese! His love of cheese and wine has been featured in publications such as The New York Times, Playboy.com (fully clothed), CBS, Culture Magazine, HuffPost and more. He'll be leading a Mozzarella Making class and will allow spectators to sample the cheese afterwards. Yes, please!
Amy Tamulonis joined the Magnolia Bakery family last April as a cake icer, icing beautiful house cakes, birthday cakes, sheet cakes and more. Amy's passion for baking and cake icing is clearly demonstrated through her work. She frequently comes up with beautiful cake designs that are on display at the Magnolia Bakery location right here in Grand Central. Amy will demonstrate some of Magnolia Bakery's most famous icing techniques, including their signature swirl and rosette cake. After the demonstration, lucky spectators will get to taste mini cupcakes.
If you're Midtown, make sure to stop by Grand Central for a picnic lunch.  Event schedule is subject to change.  Visit Grand Central Terminal for complete details.