Mint — JetBlue's Highly Acclaimed Premium Take on Coast-to-Coast Travel — Arrives in Boston
JetBlue Adds Nashville as Its 60th Destination From Boston and Boosts Flight Frequencies Across Its Network
NEW YORK, NY — (Marketwired) — JetBlue, the largest airline in Boston, today announced plans to enhance service at Logan International Airport as part of its long-term commitment to serve both business and leisure travelers who have made the airline the city's top carrier.
As part of the expansion, JetBlue will introduce Mint, its highly acclaimed take on premium travel, to Boston customers traveling to San Francisco and Los Angeles. JetBlue will also add Nashville as its 60th non-stop destination from Boston and will increase service frequency on more than a dozen existing routes to U.S. and Caribbean destinations.
"We came to town in 2004 with the renegade idea that we could bring humanity back to air travel for customers underserved and overcharged by other carriers," said Robin Hayes, president and chief executive officer, JetBlue. "Boston welcomed our unique approach with open arms, and we quickly grew together. We may be the top airline in Boston today, but we aren't even close to finishing our growth."
"JetBlue's continued growth as the Commonwealth's largest airline is great news for our economy, thousands of JetBlue's hardworking crewmembers and millions of travelers flying in and out of Boston's Logan International Airport" said Massachusetts Governor Charlie Baker. "Recent expansions and partnerships in markets foreign and domestic, including Haiti and Tel Aviv, and the launch of JetBlue's Mint service further connecting us to the West Coast, continue to attract businesses and create jobs by putting all Massachusetts has to offer on the world stage."
MINT IN MASSACHUSETTS
Mint service will take off between Boston and San Francisco beginning in March 2016 with up to three daily roundtrips. Bookings will be available on jetblue.com beginning July 8, 2015. Mint service to Los Angeles is set to begin in fall 2016 with up to three daily roundtrips.
"Customers traveling between New York and the West Coast can't get enough of Mint, and we can't wait for Boston customers to experience it," said Hayes. "We saw the opportunity to bring humanity back to premium coast-to-coast travel, traditionally offered at high prices and with mediocre service."
Additionally, JetBlue will offer Mint seasonal service to the Caribbean beginning in March 2016 with a weekly Saturday roundtrip between Boston and Barbados, one of the airline's most luxurious leisure destinations.
Since launching Mint in June 2014, JetBlue has again disrupted the air travel status quo with a thoughtful product offering and exceptional service from specially trained JetBlue crewmembers. JetBlue's top-notch inflight service is matched by the Mint aircraft itself, which includes private suites, the widest seat and longest fully-flat bed in the U.S. domestic market (a), tapas-style dining, custom amenity kits, a 15-inch flat screen with 100+ channels of DIRECTV® programming and more than 100 channels of SiriusXM® satellite radio, and free Fly-Fi broadband Internet.
All customers traveling on the additional flights will benefit from JetBlue's new Airbus A321 aircraft, which features the airline's new core experience. Every A321 offers the most legroom in coach (b), a new world-class seat designed to maximize comfort, larger 10.1″ seatback screens with 100+ channels of DIRECTV® programming and more than 100 channels of SiriusXM® satellite radio, free Fly-Fi broadband Internet, in-seat power outlets accessible to all customers and a drink holder.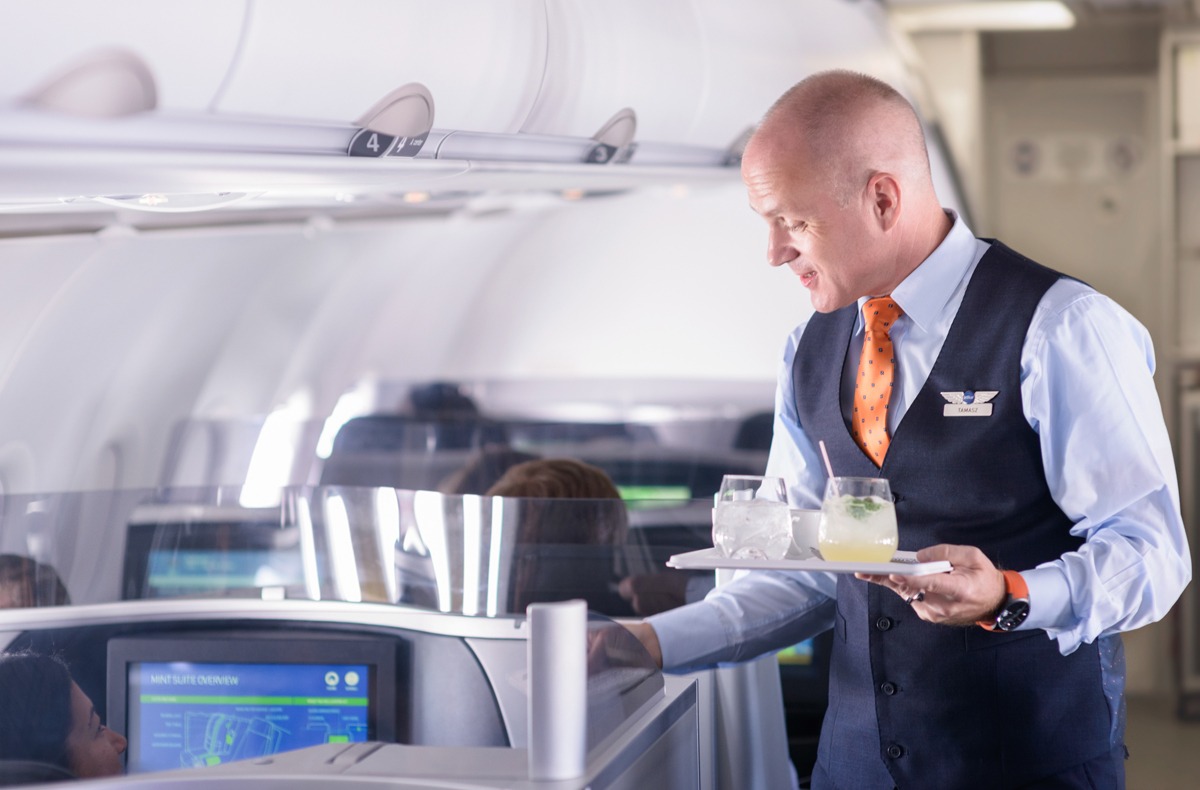 NEW TO NASHVILLE
JetBlue also announced its intent to serve Nashville International Airport (BNA) from Boston. Home to national landmarks including the Grand Ole Opry and the Country Music Hall of Fame, Nashville will become JetBlue's 60thnon-stop destination from Boston. Two daily roundtrips will provide new links between Tennessee and the northeastern U.S. and JetBlue's growing network of destinations. Flights will operate between "Music City, USA" and Boston beginning in spring 2016. Seats will be available for sale this summer.
JetBlue also plans to launch daily non-stop service from Nashville to its Fort Lauderdale-Hollywood focus city. Service will begin in spring 2016. Connecting Nashville with Fort Lauderdale will play a part in JetBlue's growth towards 100 daily flights to meet increasing customer demand in South Florida. Seats will be available for sale this summer.
All flights to Nashville will be operated on JetBlue's Airbus A320 aircraft offering the airline's award-winning service featuring the most legroom in coach (b); free Fly-Fi, the fastest broadband internet in the sky; complimentary and unlimited name-brand snacks and soft drinks; free, live DIRECTV® programming and 100+ channels of SiriusXM® radio in every seatback.
FLIGHT FREQUENCIES
In addition, JetBlue will soon offer even more flights from Boston to 12 cities in its route network.
In January 2016, JetBlue will offer an average of 118 daily departures in its winter schedule with even more frequencies in the peak travel season – up to 140 daily departures in summer 2016. This is up from 54 average daily departures in 2008 when the airline began to significantly grow its presence in Boston.
The increase comes from a series of added flights on existing routes. Many of the flight frequency additions will be to JetBlue's Florida and Caribbean focus cities and to other popular destinations in these regions (c). Additional flights are being added to the following destinations in the U.S. JetBlue network:
Additional daily flights between Boston and:

Orlando, Ft, Lauderdale, Tampa, San Juan, Raleigh/Durham, New York (JFK) and Cleveland
Additional weekend flights between Boston and:

Barbados (d), Aruba, Cancun, Turks and Caicos, Punta Cana, St. Maarten and Liberia, Costa Rica (d)
"I welcome JetBlue's announcement that service is expanding at Logan Airport. Not only does it give the traveling public more flights and destinations to choose from, it will also provide economic benefits to the region," said U.S. Rep. Mike Capuano.
"JetBlue's expansion at Boston Logan Airport is great news for all Bostonians and the millions of travelers who use the airport every year," said Boston's Economic Development Chief, John Barros. "Additional JetBlue flights from Logan Airport to domestic and international destinations deepen the airline's connection to Boston and Boston's connection to the world."
"Today's announcement further enhances the JetBlue experience for our customers at Boston Logan," said Massport CEO Thomas P. Glynn. "By increasing flight availability, adding a popular route to Nashville and expanding the Mint service to our passengers, JetBlue continues to help us make Boston a popular city to visit, do business and connect to New England and the world."
POWERFUL PARTNERSHIPS
JetBlue has helped connect more international carriers in Boston through agreements with 15 carriers. El Al to Tel Aviv and Hainan Airlines to Shanghai are two of the newest routes. Emirates also plans to introduce a second daily flight to Dubai this fall.
Over the last three years JetBlue has attracted five new international partners to Boston including El Al, Emirates, Hainan Airlines, Qatar Airways and Turkish Airlines. Through these JetBlue partnerships Boston is now connected to an unprecedented number of global hubs and many destinations previously unavailable to Boston travelers on non-stop routes.
JetBlue's impressive list of airline partnerships grew from its very first agreement with Massachusetts-based Cape Air in 2007. Cape Air is one of the largest independent regional carriers in the U.S. and enhances the JetBlue network with easy connections from San Juan and Boston to destinations in Cape Cod and the Caribbean.
"JetBlue carried more than eight million Boston customers across our network last year," said Hayes. "Boston is an important focus city for JetBlue, which is why we are reaffirming our presence in Boston. Whether flying JetBlue or using one of our airline partnerships to travel to any corner of the globe, there will be more options than ever for travel from Boston."