NEW YORK, NY — JetBlue Airways , New York's Hometown Airline™, announced a partnership with Manhattan Portage, a brand known for pioneering and manufacturing the original New York City bicycle messenger bags. The environmentally-conscious airline partnered with Manhattan Portage to launch a fashion-forward, recycled bag collection perfect for those on the go and those wanting to carry a piece of the airline's history. This limited edition unisex "JetBlue Uniform Bag collection" will be available starting on April 22 (Earth Day) online at https://www.manhattanportage.com/catalog/JetBlue.php and Manhattan Portage stores.
Last year, JetBlue introduced new uniforms across the airline for the first time in its history. At the same time, the airline worked to save old, never worn pieces from landfill. As part of JetBlue's uniform recycling program overstocked uniforms were put to use in a smart way.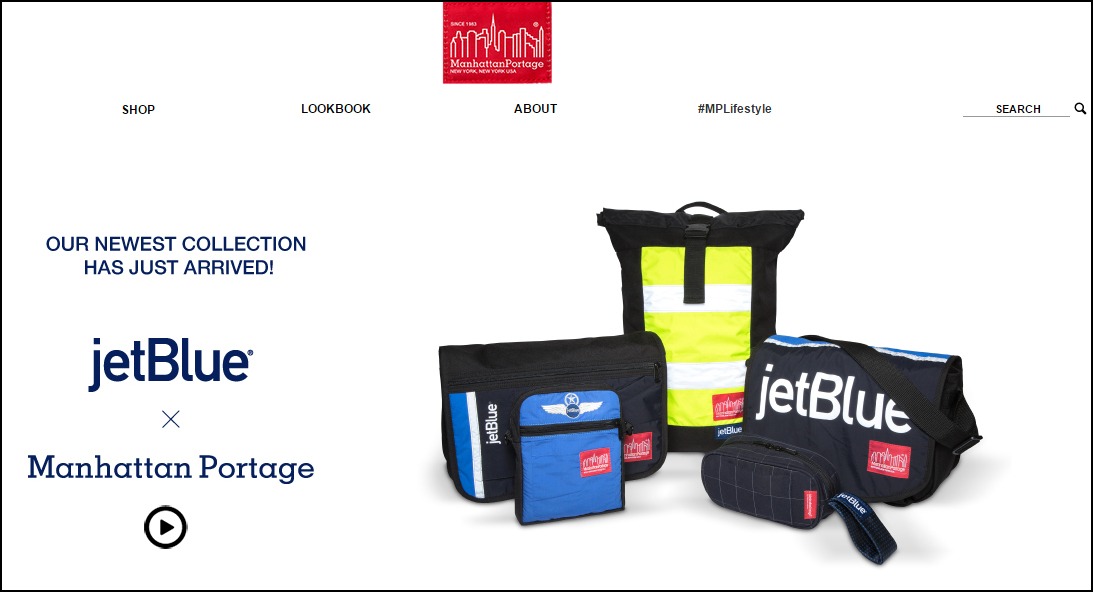 "The Big Apple is the fashion capital. As New York's Hometown Airline, our new bag collection will give stylish New Yorkers, and those who simply want a piece of JetBlue history, an eco-friendly fashionable option," said Sophia Mendelsohn, head of sustainability, JetBlue. "When we launched our new uniforms, it was important to us to keep the fabric from the old and unworn uniforms out of landfills by putting them to good use. So, we reached out to Manhattan Portage and put our heads together and came up with a new way to combine fashion and travel with responsibility. JetBlue and Manhattan Portage are based in New York, so we both wanted to have a little fun and showcase our love for our hometown."
This recycled bag collection was designed and produced by Manhattan Portage, which was founded in 1983 in New York. Uniforms from various JetBlue functions were broken down and repurposed into a fully functional (and stylish) limited edition bag collection for men and women. Each bag not only saves valuable textiles from landfills, it holds unique value and has its own character, as its design elements were once worn by some of the most unique crewmembers in the airline industry.
Lauren Hoffman, from Manhattan Portage's Sales and Marketing department, said, "By incorporating the technical aspects including high visibility reflective prints of the JetBlue ground operations crewmember uniform pieces and the aesthetics of the inflight crew uniform pieces such as the signature pilot wings, we were able to come up with a series of durable bags that are as fun and unique as JetBlue."
Manhattan Portage's iconic red label emblazoned with an outline of New York's famous skyline is widely recognized in over 40 different countries. This landmark logo appears on several collections of bags and accessories available in a wide range of styles, fabrics and prices, including the new JetBlue collection.
JetBlue is known for its unique culture and award-winning service as well as its environmentally friendly focus. When introducing its first new uniforms in the airline's history, JetBlue made sure that both its overstocked, unworn and previously worn uniforms were put to good use after they'd served their initial purpose. In 2014, when JetBlue switched to its new uniforms, the airline donated more than 18.5 tons of worn used uniforms, clothing and fabric to several non-profit partners including Planet Aid, a 501(c)3 nonprofit organization that collects and recycles worn clothing and shoes and, Loomstate, an end-to-end sustainable fashion house. Planet Aid is selling the clothing with the proceeds supporting health, agricultural, educational, and environmental programs in Africa, Asia, the Caribbean and Latin America.
The United States Environmental Protection Agency (EPA) estimates, in 2010 Americans rid their closets of more than 13 million tons of textiles, yet only 15 percent of that clothing was recycled or donated. In one year, more than 11 million tons of textiles were dumped in landfills within the United States alone. Decomposing clothing releases methane, a harmful greenhouse gas and a significant contributor to climate change. There are also dyes and chemicals in clothing and shoes that can seep into the soil, contaminating water used to bathe and drink as well as grow food.
Image courtesy of JetBlue.