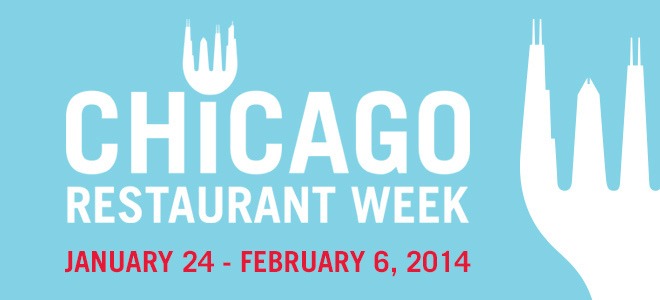 Celebrating Chicago's finest culinary talents Chicago's annual Restaurant Week returns starting January 24, 2014. For 2014, Chicago Restaurant Week has been extended to a 14-day dining event that will take place at restaurants throughout downtown, the neighborhoods and suburbs from January 24 to February 6, 2014.
The annual culinary celebration will feature prix fixe menus starting at $22.00 for lunch and $33.00 and/or $44.00 for dinner (excluding beverages, tax and gratuity).  Organized by Choose Chicago, Restaurant Week gives local foodies and visitors an opportunity to enjoy prix fixe menus from more than 280 participating restaurants.
Chicago Restaurant Week 2013 proved to be the most successful Restaurant Week yet. WIth 286 participating restaurants throughout Chicagoland, Choose Chicago saw an 8% increase in participation from the year prior. The impact of the promotion brought more than $25 million in direct dining spending in Chicago area restaurants, serving 513,000+ diners over the course of the ten day event.
Recently, Choose Chicago, the official tourism organization for Chicago and producer of Chicago Restaurant Week, announced that ticket sales are open for First Bites Bash, the official kick-off event for the seventh annual Chicago Restaurant Week, January 24-February 6, 2014. Paul Kahan, executive chef/partner of several acclaimed Chicago restaurants, including Blackbird, avec, The Publican, Big Star, Publican Quality Meats and most recently Nico Osteria, will host the highly-anticipated event. A portion of the proceeds generated by ticket sales will benefit Gilda's Club Chicago and Pilot Light.
"Chicago has gained significant traction as a superior culinary destination. We have the finest and most dedicated culinary community I have ever experienced," said Don Welsh, Choose Chicago President and CEO. "First Bites Bash offers guests the opportunity to engage with an impressive collection of Chicago's restaurants and chefs and to sample what these chefs have prepared for another highly anticipated Chicago Restaurant Week."
Sweet and savory tastings from 50 of Chicago's most celebrated restaurants and chefs will be featured in the Great Hall at Union Station on Thursday, January 23 from 5:30pm to 8:30pm. Guests will enjoy tastings from Terlato Wines and beers from Goose Island. Tickets are available for purchase at www.firstbitesbash.com for $125 per person. "First in line" pricing at $100 per person is available for a limited time.
Kahan, awarded "Outstanding Chef" by the James Beard Foundation in 2013 and "Best Chef of the Midwest" in 2004, has earned the reputation as one of America's most influential working chefs. Despite accolades and adoration, Kahan's biggest accomplishment remains his work as a mentor for young chefs. As Kahan states, "I have won my awards, what I love is cooking and teaching. If somebody has a great creative vision or a great mind for food, I want to learn from them." He works to foster empowerment, providing the resources necessary to grow, both as a chef and person.
Committed to charitable involvement, Kahan selected two local charities — Gilda's Club Chicago and Pilot Light — who will receive a portion of the proceeds generated by ticket sales. Gilda's Club was founded by Gene Wilder in memory of his wife and Second City alum Gilda Radner after her death from ovarian cancer. An affiliate of the Cancer Support Community, Gilda's Club Chicago works to ensure that all people impacted by cancer are empowered by knowledge, strengthened by action, and sustained by community. Pilot Light, formed by chefs Paul Kahan, Matthias Merges, Justin Large, Ryan Poli and Jason Hammel, empowers children to make healthy choices by incorporating culinary education and nutrition into existing Chicago Public Schools curriculum.
First-time participants at First Bites Bash include Kahan's Big Star, Bar Pastoral, Beatrix, Farmhouse Tavern, Fresco 21, Howells & Hood, Little Market Brasserie, Osteria Via Stato, Quartino, Roka Akor, Summer House Santa Monica and The Chicago Firehouse Restaurant.
Visit EatItUpChicago.com for a complete list of participating restaurants.  You can also check out their Restaurant Week menus and reserve a table today!  Be sure to visit the website regularly for updates as new restaurants join and more menu offerings become available.
Restaurant Week FAQ
How do I take part in Chicago Restaurant Week?
Nothing is required for participation in Restaurant Week, but it is strongly recommended that diners make reservations in advance. To make a reservation, you may book through EatItUpChicago.com or call the restaurant directly. All participating restaurants should provide you with their special Restaurant Week Menu; if the menu is not provided upon seating, please feel comfortable to request the special menu.
Which restaurants are involved?
More than 280 restaurants throughout Chicago and nearby suburbs are participating. For dining ideas, a complete list of participating restaurants and the menu offerings, visit EatItUpChicago.com.
Are reservations required?
Reservations are not required, but are highly recommended. There is no guarantee that walk-in guests will be accommodated, so please call ahead or book your reservation online at EatItUpChicago.com.