CHICAGO /PRNewswire/ — United Airlines announced it is transforming the customer experience in its United Clubs with upgrades including an overhauled, complimentary food menu launching this week, extensive club renovations and a hospitality-focused approach to customer service.
[blockquote right="pull-right"]All-new fresh and healthy complimentary food menu to begin this month along with more renovations, new club openings scheduled in 2015 and hospitality-focused customer service approach.[/blockquote]
"We're making major changes in our United Clubs to give our customers the elevated, hospitality-centric service and experience they deserve and expect. This year will be transformational," said Jimmy Samartzis, vice president of customer experience.  "Our new fresh, tasty and healthy food offerings, overhauled service approach, and systematic investment in renovating the rest of our 49 clubs worldwide will give our customers an airport getaway for relaxing or being productive during the hustle and bustle of their travel day."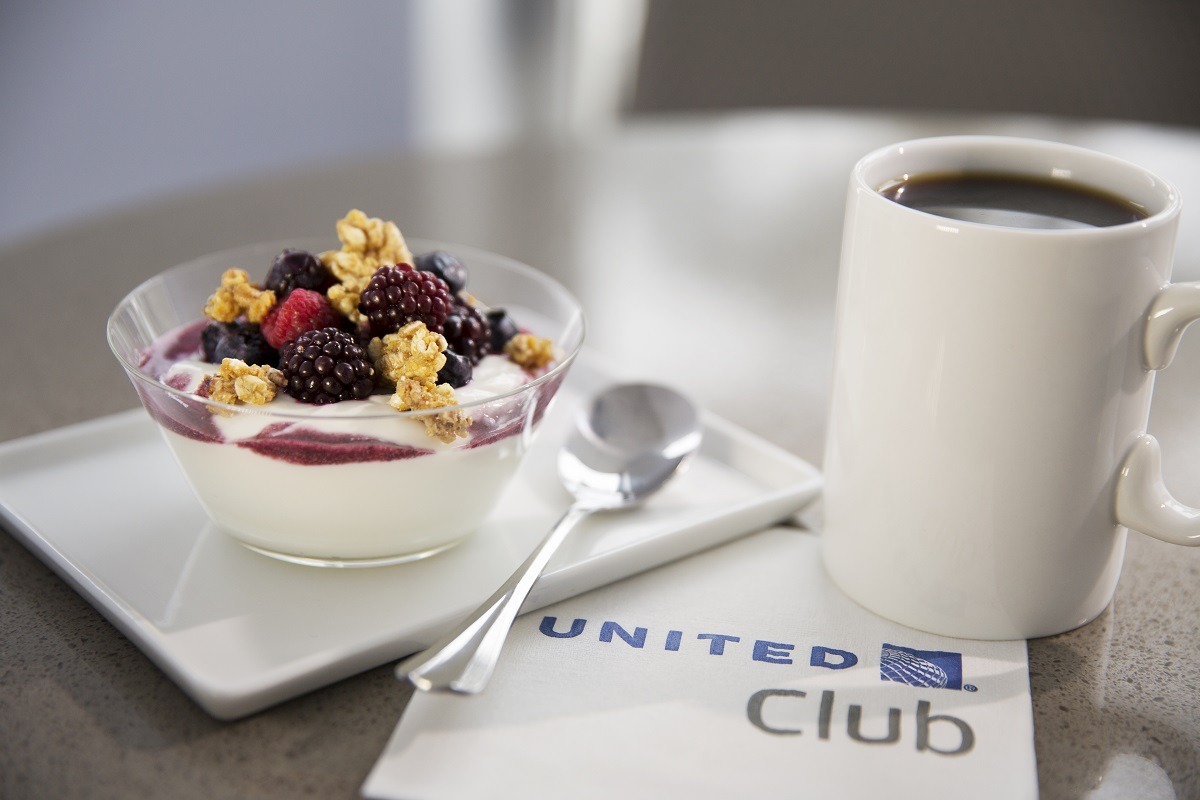 New Complimentary Food Menu
United will launch an all-new complimentary food menu in its United Clubs – from a Greek yogurt bar and hot oatmeal station to hummus with pretzel crisps and peppers. The menu is focused on freshness, variety and quality. United is replacing all current offerings with the new healthy and delicious choices, beginning with Chicago O'Hare International Airport this week.
The new items will be available at United Clubs in Houston, Denver, Newark, Los Angeles, San Francisco and Washington Dulles by the end of summer. All United Clubs worldwide will feature the new food by the end of the year.
New Morning Food Selections

New Afternoon Food Selections

Hot Old-Fashioned Oatmeal

-assorted toppings-

mixed fruit, granola, cinnamon, raisins, honey, brown sugar

Fresh Bagel Sticks

plain and everything bagel sticks with cream cheese, assorted jams

Fresh Hummus

-assorted toppings-

pita thins or pretzel crisps, Greek olives, freshly sliced red bell peppers

Mediterranean Salad

wheat berries, peppers, tomatoes, black olives

Greek Vanilla Yogurt

-assorted toppings-

mixed fruit, granola, cinnamon, raisins, honey, brown sugar

Cage-Free Hard- Boiled Eggs

served with fresh chives and paprika

Soup du Jour

hearty garden vegetable soup

Cured Salami and Cheddar Cheese

served with hearty wheat crackers

Scones

flavors rotate between cinnamon

vanilla, blueberry, cranberry orange

Spicy Bloody Mary Trail Mix

with pretzel sticks and assorted nuts

(peanut-free)

Healthy Fitness
Trail Mix

with assorted dried fruit and seeds

(peanut-free)

Salty Ranchero

Trail Mix

with sesame sticks

(peanut-free)

Assorted Cereals
+ Milk

Corn Flakes®, granola, 2% milk, skim milk

Fresh Fruit

apples + bananas

Sheila G's
Brownie Brittle™

Artisan Breads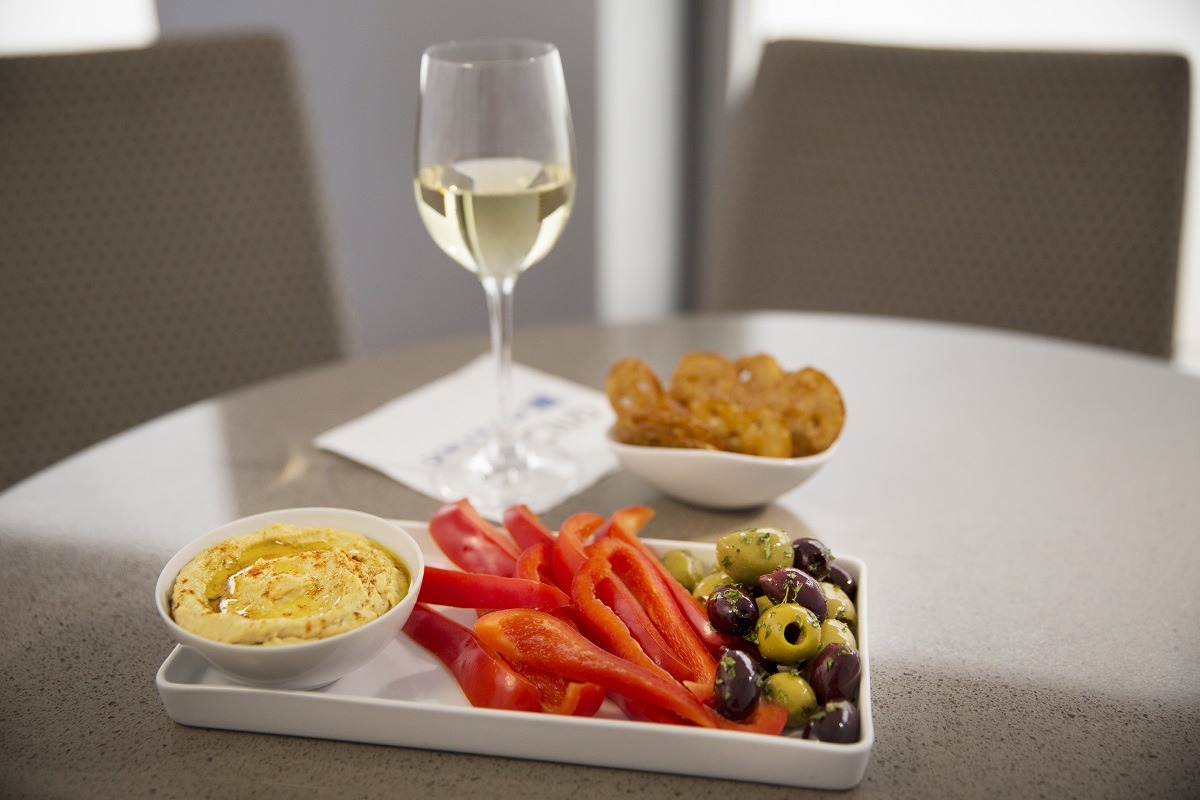 Also in 2015, United will launch an upgraded beverage-for-sale program of premium wines, beers and spirits including Champagne Laurent-Perrier and Trinchero Family Estates Wines. United plans to test a new food-for-sale pilot program later this year as well.
United Club Renovations
In the coming year, the airline will renovate clubs in Chicago O'Hare, Washington Reagan, Hong Kong and Tokyo Narita. It will also build new clubs in Atlanta and San Francisco, and begin major changes in Los Angeles.
Each lounge will reflect the new, modern style with upgraded amenities showcased in the airline's Chicago O'Hare, Boston, London Heathrow, San Diego and Seattle United Club renovations. The new design schemes incorporate both United's unique aviation history and panoramic views of modern-day aviation in action. New and renovated United Clubs offer more and diverse seating arrangements.
United's recent renovations at London Heathrow have been nominated by the American Institute of Architects for the Design Excellence Award for Interior Architecture. The London club is also a finalist for the 2015 Design Et Al International Yacht & Aviation Awards in the category of Commercial Aviation, First Class Lounge.
Service and More
United will re-train its United Club agents with a new, comprehensive customer service program throughout 2015. The training will reflect standards of the hotel and hospitality industry to better match club members' expectations. United Club members will also enjoy complimentary, Wi-Fi-based printing for greater customer productivity this year.
About United Clubs Worldwide
United Club members enjoy an airport oasis to recharge and relax in more than 45 locations worldwide. In addition to the food and snack offerings, other complimentary amenities include personalized travel assistance and beverages including select beer, wine and spirits. United Club members also enjoy access to Copa Club locations and participating Star Alliance affiliated airport lounges worldwide. For more information, including membership details, visit united.com.