Passport To Paris Features Masterworks By Toulouse-Lautrec, Degas, Renoir – And More Monet Than Ever Before In Denver
Denver's about to get a healthy dose of joie de vivre, thanks to the Denver Art Museum's Passport To Paris (October 27, 2013-February 9, 2014), an exhibition that takes visitors through 300 years of Parisian art history. On display will be pieces by some of the most well-known artists, including Claude Monet, Edgar Degas, Camille Pissarro, Vincent van Gogh, Henri de Toulouse-Lautrec and more.
[quote text_size="small"]
More Monet in Denver than ever before.
[/quote]
Plus, VIP Tickets, available through exclusive hotel packages, allow guests to skip the lines to see this collection of masterpieces. Additional details can be found at ParisinDenver.com.
Three Spectacular Shows in One
Passport To Paris is really a suite of three shows for the price of one. Here's a sneak peek of these exhibitions.
Court to Café: Three Centuries of French Masterworks from the Wadsworth Atheneum – Court to Café features 50 masterpieces that highlight the richness of French painting, ranging from the 17th through the early 20th century. You'll see religious and mythological subjects, portraits, landscapes, still lifes and genre scenes from Edgar Degas, Pierre-Auguste Renoir, Paul Cézanne, Vincent van Gogh, Henri de Toulouse-Lautrec and Claude Monet.
Nature as Muse: Impressionist Landscapes from the Frederic C. Hamilton Collection – The impressionists loved the natural world, and this show displays the spectacular fruits of their labor. Focusing on landscape paintings, Nature as Muse features pastoral works from the late 19th century, including gorgeous pieces by Cézanne, Monet, Berthe Morisot, Camille Pissarro and Alfred Sisley.
Drawing Room: An Intimate Look at French Drawings from the Esmond Bradley Martin Collection – Get an up-close-and-personal look at the creative mind at work. This exhibition features 39 works-on-paper, from rapid sketches to finished pastels. Artists featured include François Boucher, Jacques-Louis David, Théodore Géricault, Jean-Auguste-Dominique Ingres, Toulouse-Lautrec, Monet and Sisley.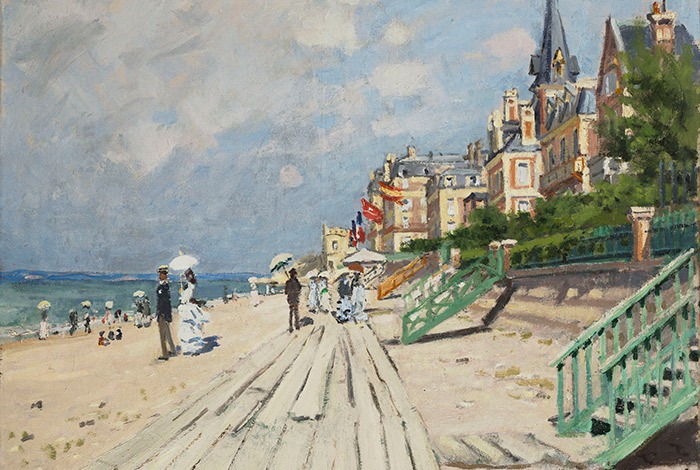 An Immersive Experience
You'll want to take this trip to Paris more than once. Throughout the run, the museum will offer free, on-site performances by members of the Colorado Symphony; a Drawing Studio to explore your own creativity; discussions of French art, music and culture through the centuries; and other exciting programs.
Every Saturday between November 2 and February 9 at 1 p.m., Colorado Symphony musicians will offer performances for Denver Art Museum visitors, with a series of afternoon concerts that celebrate the canon of classical French music. The Colorado Symphony will also curate a soundtrack for the four galleries within the historical Court to Café: Three Centuries of French Masterworks from the Wadsworth Atheneum, complementing the art on the walls with music that reflects and illuminates the works' history.