Starting tomorrow, Amtrak, in conjunction with MassDOT, is launching a new state-supported seven day a week passenger train called the Valley Flyer.
The new addition will continue north from Springfield, MA onto Holyoke, Northampton, and Greenfield. These cities, along the Connecticut River, are referred to as the Knowledge Corridor. Currently, the Vermonter (St. Albans, VT-Washington, DC) serves this route daily, but with the new Valley Flyer service, additional options will become available.
The route connects up with the Amtrak Shuttle Service between Springfield and New Haven, CT as well as the CT rail Hartford Line along the same corridor. Connections can also be made in New Haven to Amtrak Acela, Northeast Regional, and Metro-North commuter trains to New York City, Washington, DC and numerous other Northeast cities.
The new trains are intended to give riders the option of making it to New York City for the day and returning in the evening. During the week, two morning trains will head south from Greenfield, while evening trains will return north towards Greenfield. Weekend schedules differ from the weekday options. The schedule is listed below.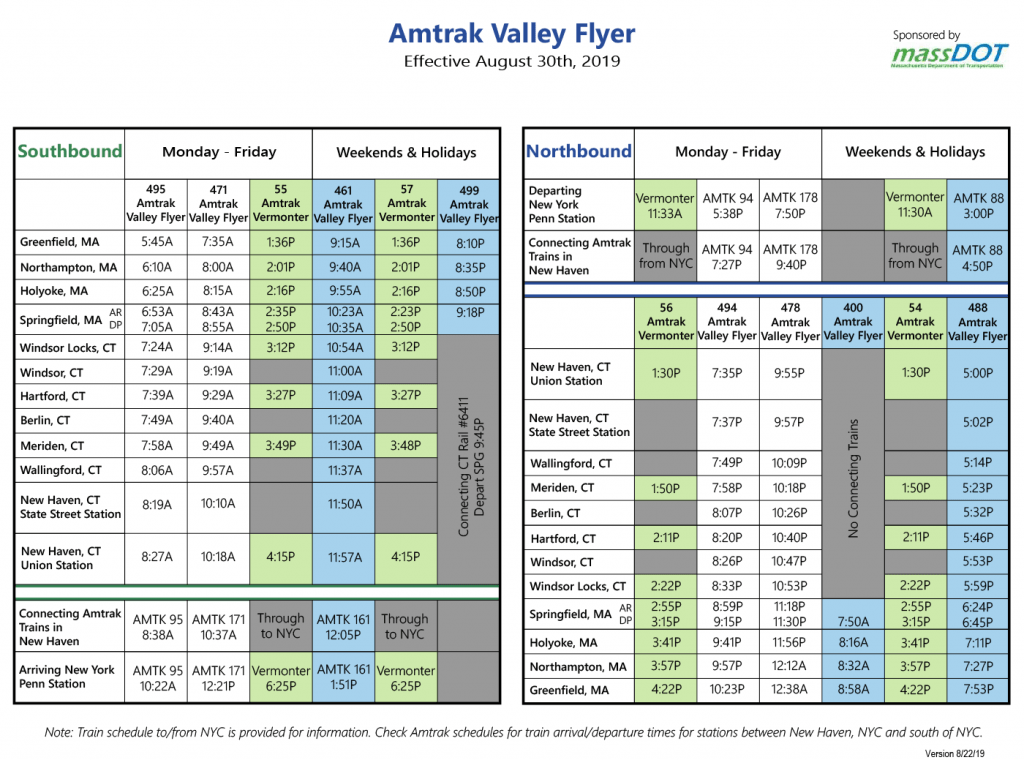 The introduction of the Valley Flyer is a pilot program that will run through 2021. If ridership goals are met, the service is expected to continue and possibly grow further.
"This pilot program could be a game-changer for our region, better connecting travelers and businesses while growing our economy," said Congressman James McGovern.  "The Valley Flyer will finally make it possible for those in the Knowledge Corridor to commute to places like New York City and back in the same day while bringing more travelers into Massachusetts."
"Our administration continues to prioritize efforts to improve and expand transit opportunities in all corners of the Commonwealth, and the new Valley Flyerpassenger rail pilot is an important step forward as we seek to meet the needs of residents and communities in Western Massachusetts," said Governor Charlie Baker. "We look forward to this opportunity to partner with Amtrak and other stakeholders to bring this important new rail service to support communities from Springfield to Greenfield."
"We are pleased to be collaborating with Amtrak on this two-year pilot passenger train service which will provide another transportation option along the Knowledge Corridor," said Transportation Secretary and CEO Stephanie Pollack. 
"I am thrilled by the launch of the Valley Flyer passenger train service serving western and northern Massachusetts," said Congressman Richard E. Neal. "I have been a champion of bringing increased passenger rail service to the residents of western Massachusetts and the addition of this line is yet another tremendous success. The introduction of this service, running through the recently re-opened and renovated Springfield Union Station, will help to grow the economy and tourism in the area and support a new field of workers who now have access to convenient employment hubs in the Pioneer Valley by simply traveling by rail. I am proud to be a partner in this great endeavor."
For complete details or to purchase tickets, visit Amtrak.com.