For the last seven years, Amtrak has brought together the communities they serve and the passengers they transport through National Train Day, a one day event showcasing the power of train travel.  With multiple large ticket events at various locations throughout the country, National Train Day has grown in size each year.  This year, because of the continued growth, Amtrak is expanding the National Train Day celebration to better support all communities and evolve it into a traveling, community-centric experience under the new name of Amtrak Train Days.
[blockquote right="pull-right"]In the past seven years, over 300 communities in all 50 states have celebrated their love of trains on National Train Day.[/blockquote]
Amtrak Train Days is kicking off at Chicago Union Station on Saturday, May 9 and then will hit the rails, traveling to over 20 locations across the country May through November.  The touring event will feature the Amtrak Exhibit Train at select stops.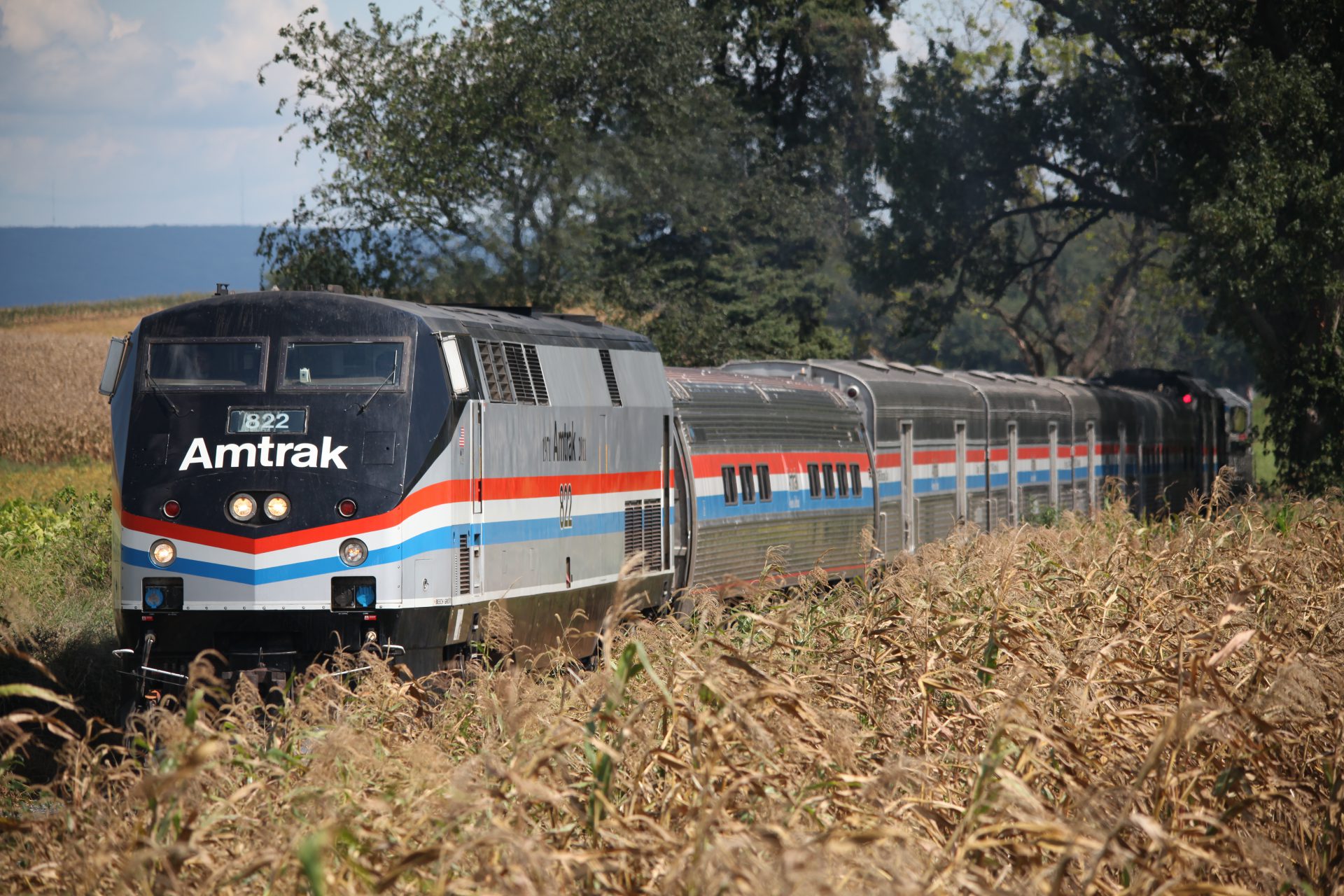 The Amtrak Exhibit Train is led by a diesel-electric locomotive arrayed in an historic Amtrak paint scheme, the Exhibit Train includes three display cars (former baggage cars) that have been renovated and transformed into exhibit space. Information on major events and achievements covering more than four decades of company history are shown. At the end of the train, in a reconfigured Amfleet Café car, visitors may browse the gift shop. There are many items available for sale including Amtrak: An American Story, an illustrated company history written by employees with chapter introductions composed by past and present Amtrak leaders. In addition, a documentary DVD explores the history of Amtrak and its importance to the nation's transportation network.
2015 Amtrak Exhibit Train Schedule

May 2
Toledo Amtrak Station
415 Emerald Avenue and Dr. MLK Jr. Plaza
Toledo, OH 43604
9 am – 4 pm
May 9
Chicago Union Station
Amtrak Train Days Celebration
South Riverside Plaza, Chicago, IL 60606
10 am – 3 pm
May 16
Riverfront Park
Amtrak Train Days Celebration
200 Water Street, NE, Salem, OR 97301
10 am – 4 pm
June 6 – 7
California State Railroad Museum
Amtrak Train Days Celebration
125 I Street, Sacramento, CA 95814
10 am – 5 pm
June 13
Dunsmuir Amtrak Train Station
Amtrak Train Days Celebration /
Dunsmuir Railroad Days
5750 Sacramento Avenue, Dunsmuir, CA 96025
10 am – 4 pm
June 27 – 28
Galesburg Amtrak Station
Amtrak Train Days Celebration /
Galesburg Railroad Festival
225 South Seminary Street, Galeburg, IL 61401
9 am – 5 pm
July 25
Grand Rapids Amtrak Station /
Vernon J. Ehlers Station
Amtrak Train Days Celebration
440 Century Avenue, SW, Grand Rapids, MI 49503
10 am – 4 pm
August 27 – 30
New York State Fairgrounds
Amtrak Train Days Celebration /
New York State Fair
581 State Fair Boulevard, Syracuse, NY 13209
10 am – 10 pm
September 19
Philadelphia 30th Street Station
Amtrak Train Days Celebration
2955 Market Street, Philadelphia, PA 19104
11 am – 3 pm
October 3
Denver Union Station
Amtrak Train Days Celebration
1701 Wynkoop Street, Denver, CO 80202
10 am – 3 pm
October 10
Grand Junction Amtrak Station
Amtrak Train Days Celebration
339 1st Street, Grand Junction, CO 81501
10 am – 4 pm
November 7
Florence City-County Complex
Amtrak Train Days Celebration /
South Carolina Pecan Festival
180 N. Irby Street, Florence, SC 29501
10 am – 7 pm

For more details on Amtrak Train Days or to host your own community event, visit amtraktraindays.com.  For more information on Amtrak travel throughout the United States and Canada, visit amtrak.com.  Amtrak Exhibit Train schedule is subject to change without notice.  Visit the website for the most current details.