The largest book sale in the western United States celebrates its 55th year and opens today in San Francisco at the Fort Mason Festival Pavilion. The sale runs through Sunday, September 22. The doors are open 10:00 a.m. to 6:00 p.m. each day.
This year's sale will feature 500,000 used books and media, and a family-friendly environment for booklovers of all ages to shop to support the San Francisco Public Library.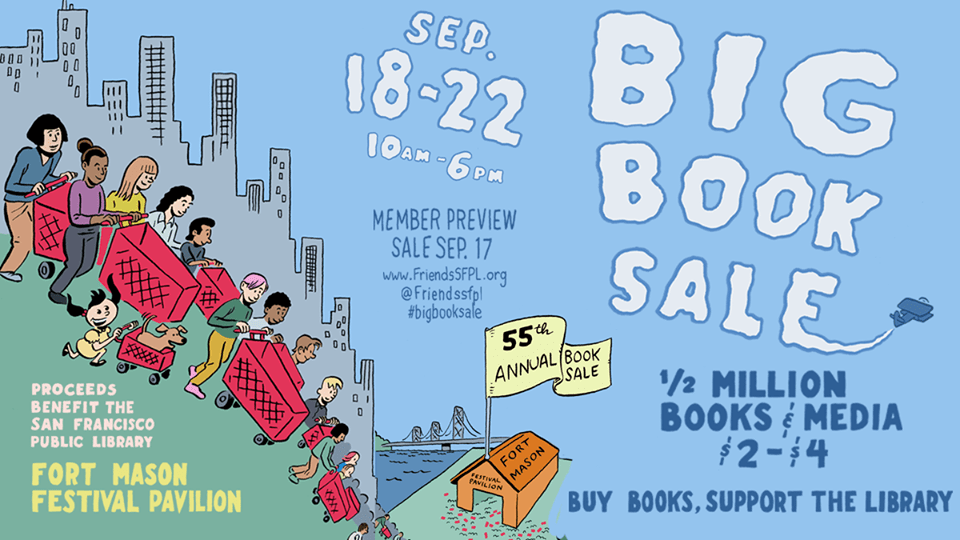 Fully stocked tables will feature 70 of the most popular subject categories; and will have everything from art and architecture to photography and children's books. This is a five-day event with over 500,000 books and media on sale, all priced from $2.00-$4.00. On the last day of the sale, Sunday, September 22, everything will be marked down to $1.00. All money raised goes towards Friends and its mission to support the San Francisco Public Library.
Many libraries throughout the country rely on a supportive Friends or Foundation group(s) to enhance the programming and materials available in their specific library. Like most groups, the goals of the Friend's Book Program are:
To support the San Francisco Public Library
To increase community access to low-cost books and media – build your home library
To provide books to underserved low-income families and children through its network of hospitals, youth centers, women's shelters, school libraries, and classrooms
To redirect more than one million items (525 tons of books) out of landfills and recycling plants each year for better uses.
The Friends are always looking for volunteers and members, for details visit the Friends of the San Francisco Public Library. For details on the programs and collections their help support, visit the San Francisco Public Library.
Image: Friends of the San Francisco Public Library/Jason Doiy