Starting today, Milwaukee is even more connected than before with the introduction of HOP, Milwaukee's new streetcar system. The first line, named the M-Line, is a 2-mile route that travels between the Burns Commons in the north, through downtown Milwaukee, and ends at the Milwaukee Intermodal Station. Over 60 years, on March 2, 1958, Milwaukee's last streetcar route was closed and now, the first of two lines is officially open.
Milwaukee is the 14th-most dense city in the U.S. (U.S. Census, 2013) and only one of five of the top 30 cities with the highest density to not have (or be planning) a fixed-rail transit system. The other cities lacking fixed-rail transit are Fresno, CA; Columbus, OH; Omaha, NE; and Mesa, AZ. Milwaukee is denser than Portland, Denver, Dallas, Houston and Atlanta, all of which have successful fixed-rail transit systems.
The initial route serves the Intermodal Station (and connects with Greyhound and Amtrak's Hiawatha route to Chicago, and the Empire Builder to Portland and Seattle) and its 1.4 million annual users; the Third Ward (the fastest-growing neighborhood in Southeast Wisconsin); East Town (with the largest concentration of jobs in the state); and the lower east side (the highest-density residential neighborhood in state). This is the first route and the city has visions for an expanded streetcar system that serves additional neighborhoods.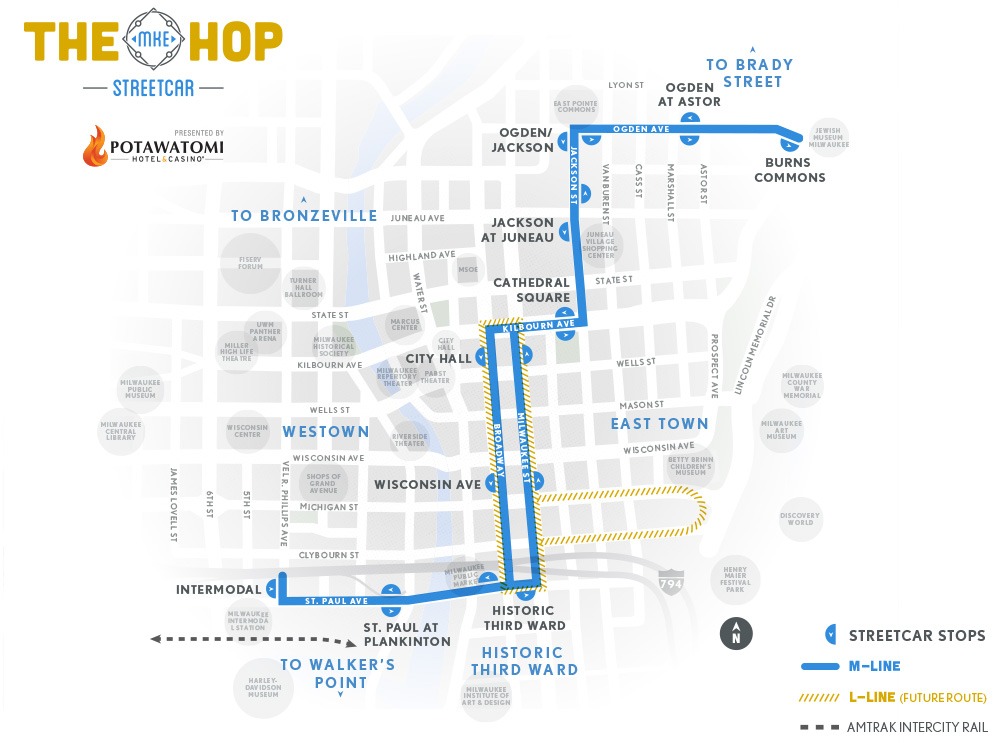 DAILY OPERATIONS
For the first year, The Hop, presented by Potawatomi Hotel & Casino, will be free to ride. After the initial 12-month free period, fares are expected to be $1.00 per ride. Hours of operation Monday through Friday are 5:00 a.m. to midnight, 7:00 a.m. to midnight on Saturday, and 7:00 a.m. to 10:00 p.m. on Sunday. The Hop will generally arrive every 10-15 minutes, however during periods of heavy traffic or increased ridership the wait times may be slightly longer.
HOP VEHICLES
Milwaukee will have five state-of-the-art vehicles, built by U.S. streetcar manufacturer Brookville Equipment Corp. The 67-foot-long streetcars feature: Three-piece, articulated cars, capacity of 150 passengers, seated and standing, two doors per side for fast boarding, low-floor design compliant with the Americans with Disabilities Act, and roll-on/roll-off access for wheelchairs, strollers and bikes.
For complete details, visit The Hop Milwaukee.
Featured image: Photograph by Milwaukee Hop