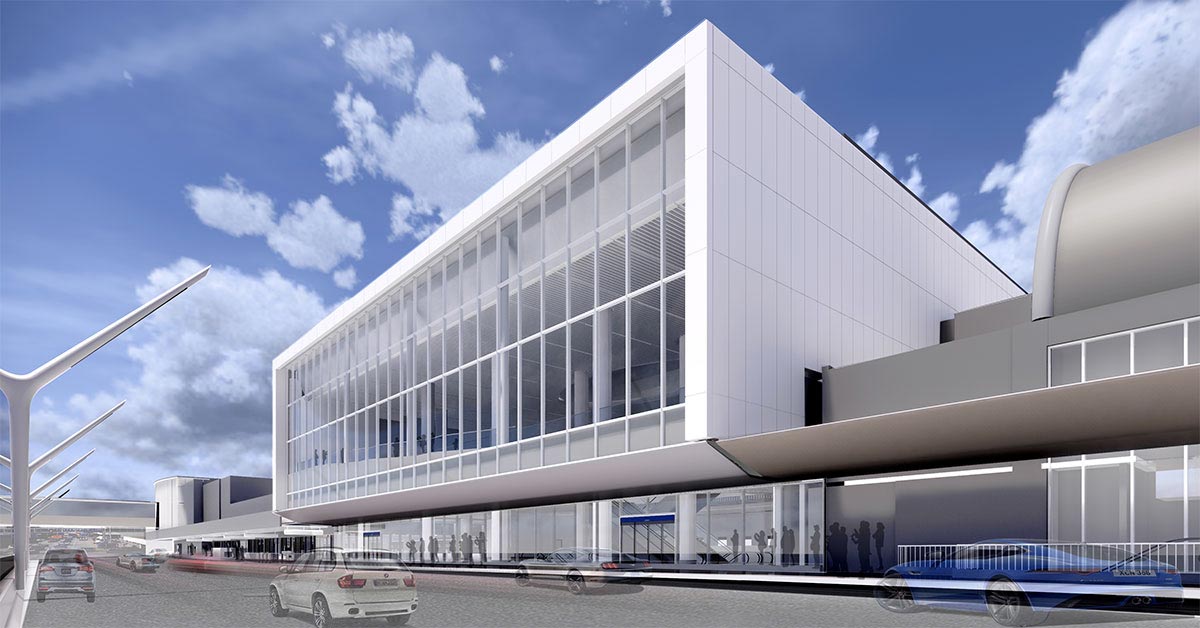 American Airlines and Los Angeles World Airports (LAWA) officially broke ground on a $1.6 billion modernization project to fully reimagine Los Angeles International Airport (LAX) Terminals 4 and 5. The project marks American's largest individual investment at an airport in its 92-year history and reaffirms the airline's commitment to Los Angeles.
"Los Angeles stands at a global crossroads — a place where the world comes to meet, innovate and create," Los Angeles Mayor Eric Garcetti said. "American's commitment to the reinvention of Terminals 4 and 5 will create good, middle-class jobs and better connect Los Angeles to the world."
In June 2017, American signed a letter of intent with LAWA, which set the framework for the carrier's record investment. Now, less than 18 months later, construction is officially underway.
"American has proudly served Los Angeles for more than 70 years," American Airlines Chairman and CEO Doug Parker said. "From the very beginning, when LAX first became a commercial airport in 1946, we've played a major role in keeping Southern California connected to the world. This remains one of the most important and fastest-growing markets for American, and today is a tremendous step forward as we continue to grow and strengthen our presence in the City of Angels."
American is the largest carrier at LAX with more than 200 daily flights on peak days to 70 destinations and is the only airline with nonstop service to five continents. Since 2015, the carrier has added service to 26 new destinations from LAX, including Sydney; Hong Kong; Tokyo (Haneda Airport); Beijing; Auckland, New Zealand; and, most recently, Buenos Aires, making American the first and only airline to offer nonstop service from LAX to Argentina's capital city.
The project will fully modernize and update the infrastructure of LAX's two busiest domestic terminals. When completed, the new facility will create a world-class customer experience from end to end, with open and efficient check-in and security processing areas; more inviting gate areas with increased seating and access to modern amenities; and greater ability for airline operations to quickly adapt to and incorporate rapidly evolving new technologies.
The project will also reimagine the workspace of American's 7,300-plus team members at LAX. Collaborative and open spaces will be designed to meet modern needs, with renovated break rooms; multi-use small and large meeting rooms; and team gathering spaces incorporated throughout the terminals.
In total, the project is expected to generate more than 6,000 jobs with more than 30 percent dedicated to local labor and 20 percent for minority- and women-owned business participation.
Additional benefits and features include:
Fully upgraded and modernized Terminal 4
Unified 300,000-plus square-foot, 28-gate complex for Terminals 4 and 5
Less roadway congestion thanks to access from public transportation via the new Automated People Mover train system (expected to open in early 2023)
A spacious new departure hall that allows direct natural sunlight throughout the building to reduce energy consumption
Reconfigured ticket counter and check-in areas to reduce wait times before security screening
Seamless access from check-in area directly to security screening areas
16 lanes for security screening with automated technology
Transparent design with modern signage to intuitively guide passengers to their gates
Modern, state-of-the-art finishes and restroom facilities
Upgraded amenities at gate areas, including more access to power outlets and world-class dining and retail options
The most premium amenities at LAX, complimented by a premium airport experience
With three Admirals Club lounges and the recent addition of a Flagship Lounge and Flagship First Dining, American offers the most premium amenities of any carrier at LAX.
The opening of Flagship First Dining last December gives American's customers traveling in first class on qualifying international flights or on nonstop transcontinental flights to New York's John F. Kennedy International Airport (JFK) exclusive access to a preflight tableside restaurant experience that offers complimentary, full-service dining with seasonal, locally inspired dishes and drinks. It is the first product of its kind to be offered by a domestic carrier at LAX.
The newly renovated Flagship Lounge, which also opened in December, allows customers flying in international first class or business class or on nonstop transcontinental flights to JFK an exclusive space to unwind, work or refresh before their flight. Customers can enjoy a range of food options, including a robust hot and cold buffet and a chef action station with freshly made-to-order dishes, along with the ability to pair meals with premium wine, champagne and spirits, or a refreshing drink from the "build your own cocktail" station.
Construction at Terminals 4 and 5 will occur in a carefully planned, phased approach to ensure a world-class experience for American's nearly 16 million annual customers and more than 7,300 team members at LAX. The majority of the public-facing components of the project are expected to be complete in time for the 2028 Summer Olympics.
For more information about LAX, please visit www.flyLAX.com or follow on Twitter @flyLAXAirport, on Facebook at www.facebook.com/LAInternationalAirport, and on YouTube at www.YouTube.com/laxairport1.