During the last decade, Denver and the metropolitan region have witnessed expansive development and launch of public transportation options throughout the entire region. This has included new rail lines, expanded light rail service, more bus routes, and more. Getting around Denver has never been easier. Plus, many of the services available convene at the restored Denver Union Station, making it easy for transfers and downtown access.
DENVER INTERNATIONAL AIRPORT
Opened on February 28, 1995, the Denver International Airport (DIA) immediately made it into the news around the world for its famously unique design. Located 25 miles east of downtown Denver, DIA is it is the largest airport in North America by land area and the second-largest in the world.
DEN Facts:
5th busiest airport in the U.S.
20th busiest in the world
Offers nonstop service to more than 180 U.S. cities
23 major airlines, not including charter and regional carriers
215 destinations worldwide, including nonstop service to 28 international destinations in 14 countries
Six low-cost air carriers (Frontier, Southwest, Spirit, JetBlue, Allegiant and Sun Country)
Hub for Frontier and United, base for Southwest
Averages more than 1,600 flights daily (June 2018)
Fourth U.S. airport to exceed 200 destinations served
Traveling between Denver International Airport and downtown? The RTD University of Colorado A Line provides service throughout the day for the cost of $10.50 each direction. Find more details about Denver's local public transit below.
RAIL SERVICE
Serving Union Station, Amtrak offers daily train service between Chicago, Omaha, Salt Lake City, and the San Francisco Bay Area. The California Zephyr serves Denver with one train in each direction.
For the last three years, during the winter months (January-March), Amtrak and the Winter Park Resort partner together to operate the Winter Park Express train. This unique service operates on weekends between Denver Union Station and Winter Park, offering skiers and snow seekers a car-free option to enjoy the winter wonderland. The return of this service in 2021 is canceled.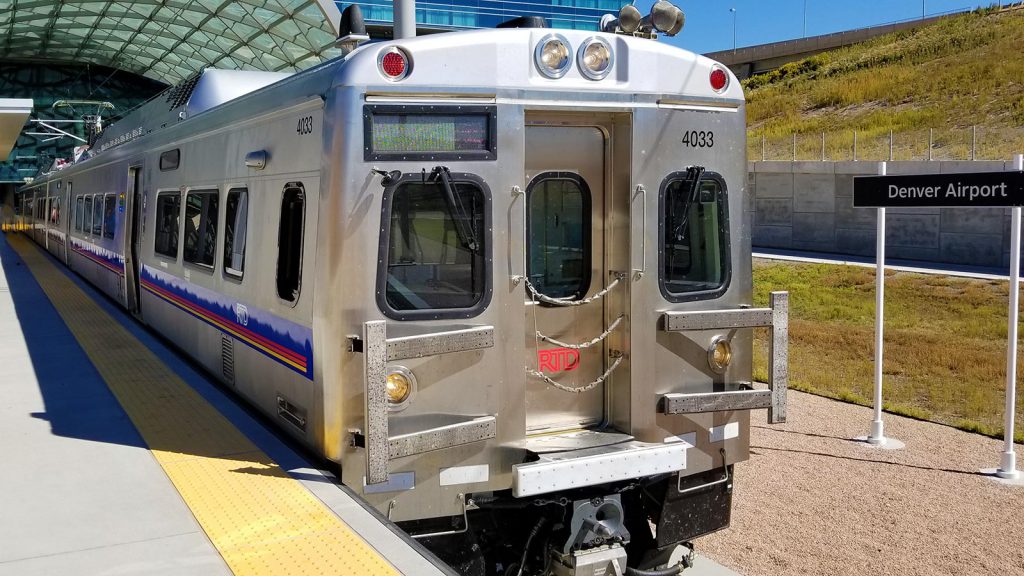 LOCAL PUBLIC TRANSIT
Regional Transportation District (RTD), is Denver's public transit operator. RTD offers various forms of transit options in eight countries in the Denver area. Services include bus, light rail, and rail routes connecting throughout the service area. Union Station serves as the starting point for all rail routes and a number of light rail and bus routes. RTD provides transportation needs for over 3 million people located within 2,342 square miles.
One of RTD's recent milestones was the introduction of commuter train service in 2016 with the launch of the University of Colorado A Line (pictured above). The first of four lines in the region connected Denver International Airport with downtown Denver at Union Station.